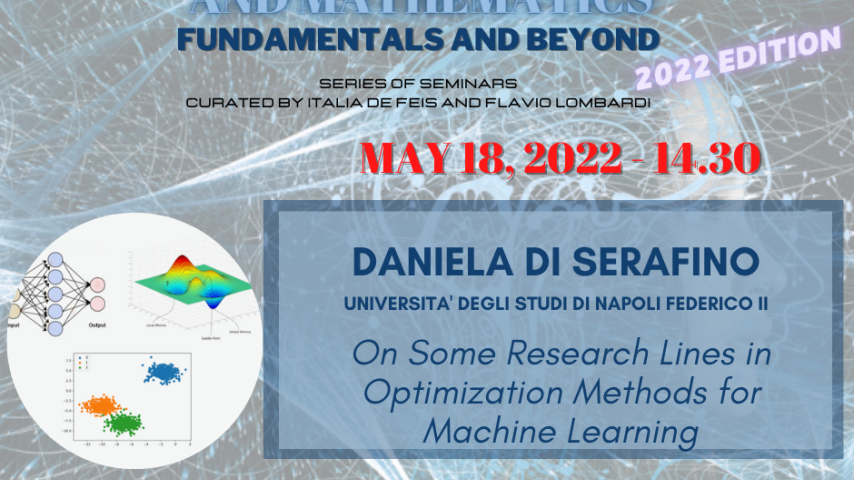 Mercoledì 18 maggio Daniela Di Serafino parteciperà con un talk al ciclo di seminari Artificial Intelligence and Mathematics 2022. 
Daniela Di Serafino è docente di Analisi Numerica presso il Dipartimento di Matematica e Applicazioni "R. Caccioppoli" dell'Università degli Studi di Napoli Federico II.
Nel suo seminario affronterà il tema dell'ottimizzazione matematica  e dei metodi numerici che costituiscono uno dei pilastri di un'area di ricerca interdisciplinare, che coinvolge informatica, matematica, statistica e domini applicativi per il Machine Learning (ML).
Di seguito l'abstract del suo seminario (in inglese).ù
"Machine Learning (ML) and related "intelligent" computing systems, e.g. search engines, software for image and speech detection and classification, social media filtering devices and recommendation platforms, are widely used in today's society. They belong to an interdisciplinary research area, involving computer science, mathematics, statistics and application domains. Mathematical optimization and related numerical methods are one of the main pillars of this area, providing tools for the computation of the parameters that identify systems aimed at making decisions based on as-yet-unseen data. In this talk, I give a basic overview of optimization methods for ML, from first- to second-order approaches, together with their main properties, pros and cons, and future research directions."